Home
›
Axis360
Unable to connect axis 360/Cinemoco v 2.5 to Dragonframe 3 or 4
Hi all, sorry for the long post, but I'll try to be detailed.
I just got an axis 360 slider and the 3 motors to do a slide/pan/tilt combo but it will not connect to Dragonframe in USB mode to control the motors. Version 2.5 of the Cinemoco software is installed on all 3 controllers. I tried following along with instructions and looked at forum for answers but no luck. I tried while all 3 controllers were turned on but separate, all 3 daisy chained and just 1 controller by itself but no luck. I also tried variations of having the controller plugged in/not plugged in to power source, and turned on/off. It looks like the USB is connected ok b/c the controller remains on when I plug in the USB to the computer, even if the controller is not plugged in or switched on. When only the USB is plugged in, the controller stays on but no power to the motors (as I read is normal from another post).
The problem I'm having is.. I connect USB cord and start Dragonframe and follow instructions to add controller but I get a failure message. I'm wondering if it has something to do with the connection or port I'm supposed to choose, or that I need another cord/connection. I have a Canon 5Ds that's connected to Dragonframe and I can see live view active. I don't have any DMC device or other connection from the camera to computer other than the camera cord I always use for Dragonframe. This is what the screen looks like when I start scene connections in Dragonframe:
" alt="" />
I tried all 4 of the arcmoco connections. When I click connect in Dragonframe it goes to this port selection but there's only 1 port there for me to pick from:
" alt="" />
I click ok and then right away select "start USB mode" on the Cinemoco controller. I also tried starting USB mode on the controller before trying to connect with Dragonframe but still no luck. When I switch the controller to USB mode, the motor kicks in and starts making the same continual sound that it makes if you were to turn on motor control option "keep powered". The Cinemoco screen shows this: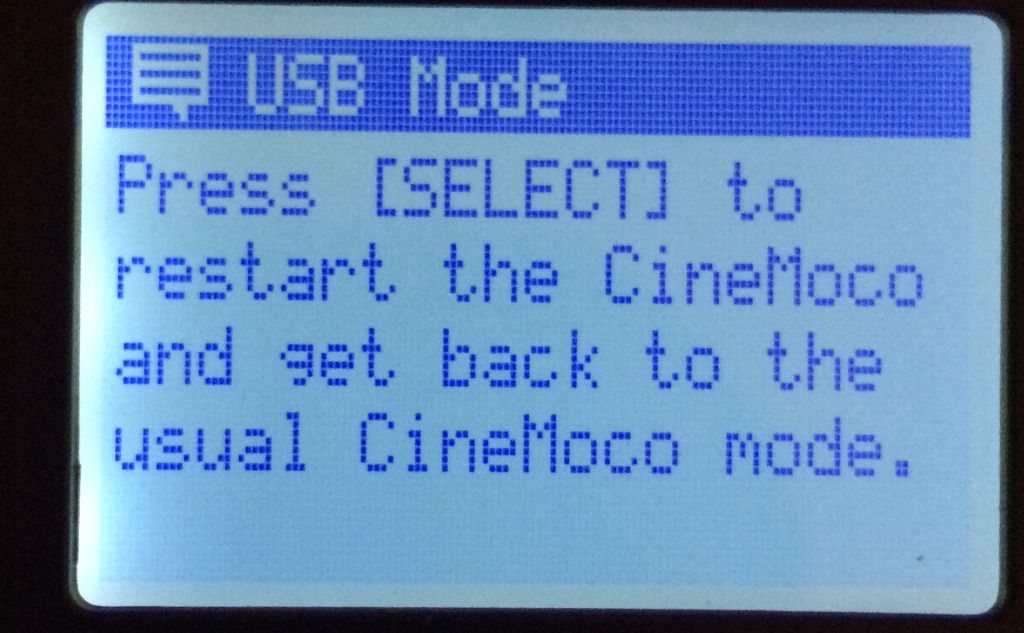 " alt="" />
and the error I always get from Dragonframe version 3.6.8 is:

" alt="" />
I downloaded Dragonframe 4, but in that version I'm not sure what device to select for connections and tried most of them. Some options, when clicked, bring up another option bubble where you can select arcmoco
#1
through 4, but nothing to select under location and when I click connect it does not work: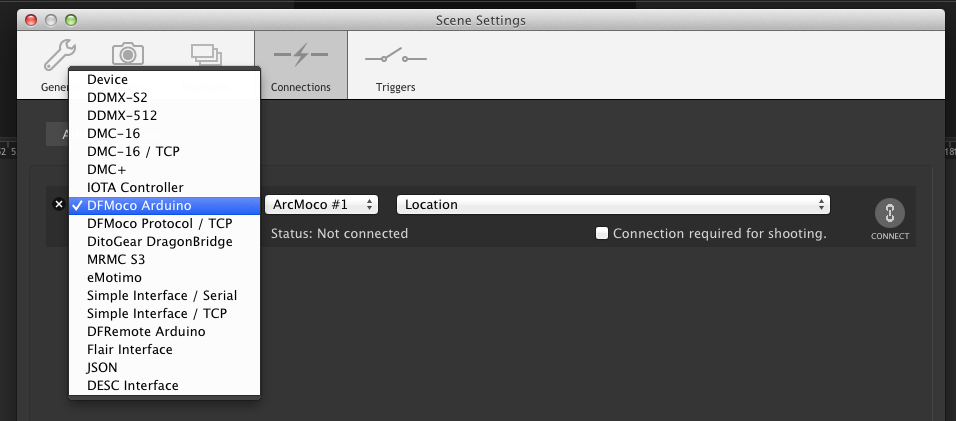 " alt="" />
I'm at a loss as to what else to try. I'm not sure if I'm missing some setting on my Canon 5dS or Dragonframe or if some other connection or device is required aside from the USB to the computer and camera cord to computer. I tried to find answers on Dragonframe's website but nothing there seemed to match up and I'm not sure if the Cinemoco is considered an arduino or not. If anyone can help I'd really appreciate it.
Thanks,
Matthew
Leave a Comment